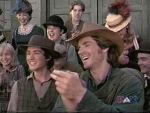 Little Men is a period drama series based on the books by Louisa May Alcott. In Little Men, Alcott's sequel to her Little Women, Jo March Bhaer and her husband Fritz set up the the Plumfield School For Boys. The series starts out with Jo striving to continue to run the school on her own after Fritz passes away.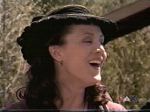 Jo hires Nick Riley, a sailor who has traveled around the word, to be Plumfield's Caretaker. Asia is Plumfield's wise, caring cook. Franz, a former Plumfield student, is the teacher. Jo's sisters Meg and Amy and Laurie, Amy's husband, are always around for a visit. Together, they imbed strong morals into the Plumfield students, who cease to allow them to live a dull life, as they grow up in Concord, Massachusetts in the 1870's.
On-line Community

Discussion forums and lists, netiquette, website links

History Column

Essays by Marilyn N discusing the historical aspects of the series.

Nitpicks

Submit and read about the goof ups that the cast and crew made.

Sights and Sounds

Sound and video clips, video captures, a desktop theme is underway.

The Set

Pictures, reports, Covention stuff, directions to filming locations

Awards and Nominatations

Some of the awards and nomination that the seres and it's cast have earned.
---
Please Join our e-mail discussion list
You may:
1) Click here to link to
http://tv.groups.yahoo.com/group/littlemen/join/
2) Or send a blank e-mail to
littlemen-subscribe@yahoogroups.com.
3) Or use the form below.
Fill in your e-mail address, then click the purple button.
---
BFS Entertainment released
Little Men on DVD and VHS
on March 18, 2003
Click here for more information.
---
Sign Guestbook | View Guestbook | Archived Messages
---

Disclaimer: This Unofficial website is run entirely by fans of "Little Men," and is in no way associated with Little Men Films, Inc., Motion International, Pax Net, Alliance Atlantis, and is not meant to infringe upon the rights of anyone.